ABOUT US
Established in 1974, the Danforth Gallery is operated by Park County Friends of the Arts (PCFA), a 501(c)(3) community non-profit organization, which has played a vital role in establishing Livingston as an art center in Montana. 2014 will mark the organization's 40th anniversary. The Danforth/PCFA has evolved into the organization that it is today thanks to the strong and spirited leadership of many pivotal individuals. Directors that have shaped the Danforth include original founder Ray Campeau, Parks Reece, Char Devine Edwards, Catherine Lunde and Traci Isaly (to name a few.) This list could really go on and on!
OUR MISSION
The Danforth/PCFA mission is to nurture the creation and awareness of art by providing exhibition opportunities for emerging, or under-recognized contemporary artists; and to offer innovative community programs, so that our citizens may realize the importance of art in their lives.
OUR EXHIBITIONS & PROGRAMS
Each year, the Danforth Gallery/PCFA sets forth an ambitious, innovative, and educational calendar of exhibitions and programs. The Gallery curates an original contemporary art exhibition of work by local, regional, and, occasionally, international artists every month excluding January. Art openings take place the fourth Friday of the month, and from June through September they coincide with the Livingston Art Walk. In winter and spring months months the Danforth hosts a visiting film program, such as the Rural Route Film Festival, and a lecture series with renown writers, photographers, artists, and historians.
Organization and History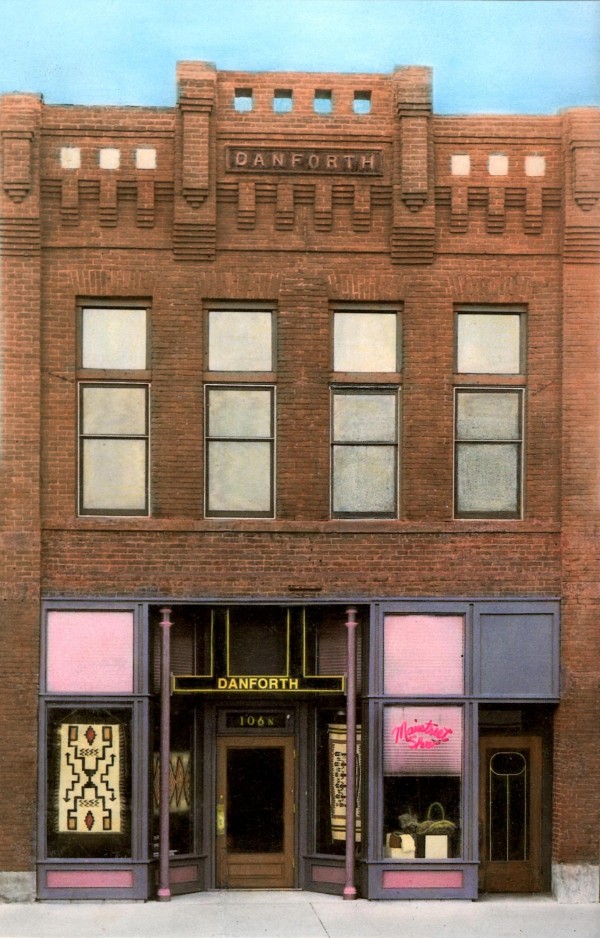 ABOUT THE HISTORIC DANFORTH BUILDING
Built circa 1891, the Danforth Gallery is located at 106 North Main Street in Livingston, Montana, in the Danforth building. It has been the home to the Gallery since 1974. In 1996, the building was granted to PCFA by John and Diane Stillman, longtime benefactors of the organization. The first floor contains the Gallery's main exhibition space and The Back Room Store, a retail art shop operated by the gallery. The second floor is rented as art studios.
Livingston Enterprise — April 22, 2002
by Doris Whithorn, Guest Columnist
106 North Main is the Danforth Gallery. It still carries the name of an early Livingston resident who paid for its construction, but left our town before the building was completed.
As it was being finished in November 1891, John Hogan, who was to occupy it as a saloon, was furnishing it, The Enterprise, in an article about the building, stated, "so that it would be one of the nicest resorts west of the Mississippi."